Care.Quality.Trust
We stand by our name in all that we do. As our name suggests, our staff is amicable, consistently delivering sincere "care from the heart." Our team members truly care for the well-being of each of our clients and go above and beyond to ensure their needs are met. We are honored and privileged to serve our clients and deliver satisfaction.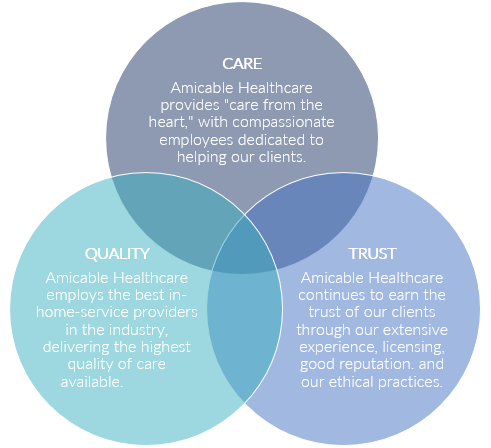 Amicable Healthcare provides the highest quality in-home care and medical staffing services that you can trust, delivering care from the heart for every patient.
Licensed in Washington State in 1997, we have for 20-years delivered high quality in-home care staffing services. We focus on meeting our clients' unique needs with creative solutions and 24/7 availability. Amicable provides care from the heart with compassionate, ethical employees that you can trust.
Home care, also known as daily activity assistance, is where we assist seniors in managing their everyday life. Home care allows your loved one to remain at home and carry on with their daily life with the assistance of an Amicable caregiver.
24 Hour Live-In Care which includes Laundry, Cooking, Feeding, Dressing, Toileting, Medication reminder and supervision, Range of motion exercises and activities and more. Learn more about our home care services here.
Home Health is a skilled service that brings your doctors office into the comfort and privacy of your home. This service is available and covered by many insurances. Call our office to speak with a Care Coordinator.
"I would like to express my appreciation with this company for the past five years. Please continue the great work. Thanks for everything."
"We are so pleased with our caregiver. She is careful, consistent, reliable, motivated, caring, and kind. She is more than we hoped for. I trust her completely and feel that she is part if our family. We feel so fortunate and hope she wants to stay "with us forever. Thank you, Amicable Healthcare!
"Amicable Healthcare has been my provider for over 10 years. Since I have been working with Amicable, I have been very pleased with their oversight and care for me. My current program supervisor comes out and checks on me routinely, and I feel very connected to my provider. For anyone considering an organization to help with all their home care needs and personal care, I would definitely recommend Amicable."